The goal of reading intervention is always to end reading intervention as soon as possible.  I want to work my way out of a job as quickly as I can with every student.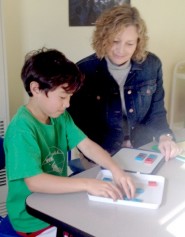 Reading intervention always begins with assessments. The assessments I use help me identify a student's strengths and challenges, and know how best to begin instruction.  It's not enough to know that a student is reading below grade level, or "reads too slowly",  or "isn't comprehending" what s/he reads.  I need to first find out some of the underlying reasons for these difficulties in order to design my plan for intervention. Assessments help me find out the why so instruction is effective.
Once the assessments are completed (usually after one or two lessons) I send an email detailing the results of the assessments and the reading plan I have designed to specifically meet that student's needs.  Then reading lessons begin and quick assessments are used weekly to make sure students are progressing.
Students usually take a "book bag" home after each lesson so reading can be practiced and enjoyed at home.  One goal I always have for my students is to learn to love reading.  It's easy to practice something you enjoy doing!
I am able to choose from a wide range of methods and strategies to address reading challenges.  There is no one "reading program" that will meet every child's needs.  Many students need multisensory word work (often referred to as "Orton Gillingham based") that stimulates visual, auditory and kinesthetic.  Others need specific, targeted instruction to help with comprehension.  Every student has unique needs, but at the forefront of my mind is always the importance of students understanding that reading has to make sense- reading is meaningful.